...I flew to Miami to see "Paul Bunyan." some call this Britten's 1st opera. others lessen it by calling it an operetta. whatever it is it's a joy. with an exubuerant libretto by Auden it often soars. Florida Grand Opera put on the lively Mark Lamos staging. old-time Wagnerian baritone Thomas Stewart came out of retirement to give voice to Bunyan. it's a speaking part & he's not seen (till his bow during curtain call)but he brings the power requird. add to that the vocal talents of Brian Anderson & Chad Johnson (neither of whom hurt the eyes either) & I had a grand time.
which is good because it rains every time I go to Florida. I did manage to get to a couple of museums before the torrents. I was startld when I turnd a corner at "Paris Moderne" at the Bass & saw Romaine Brooks'"Elisabeth de Gramont."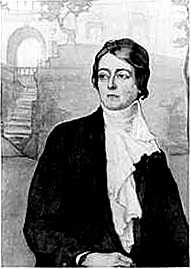 I include this poor reproduction just to remind you which painting of Brooks it is but it doesn't even suggest how stunning it is. & of course it brought back Natalie Barney's salon & that wonderful group of Amazons.
& then not far away was a painting by another member of the Barney circle Marie Laurencin. her 1923 portrait of Jeannot Salmon doesn't reproduce well either. I found myself going back & forth between the two.
more on the trip manana.....