Riva Yares Gallery is probably the best in town. its shows consistently are of quality. the current one "Milton Avery: Connections Over Time" is museum-worthy.
it consists of 48 pieces from 1920-1963. & it's strikingly hung. all the works are in pairs. for instance "Still Life with Spoon" (c. 1929) is next to "Still Life with Bottles" (1944) which is a reworking of the earlier painting. not every pairing is that precise but each at least shares subject matter.
the paintings from the '50s & '60s are so sublime I wantd to sit on the gallery floor & simply feast. which is what I did a few years ago when Dennis Yares -- who runs the Santa Fe gallery -- mountd his Morris Louis show.
if you can't get here in the next 9 days to see this remarkable show it will travel a bit. in dec it'll be in Miami for Art Basel & then in feb it goes to Riva's Scottsdale gallery.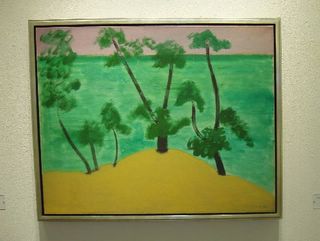 "Trees by Southern Sea" (1959)