/

this ayem I was off to the Lensic for a panel by the creative team behind SFO's Lorca opera which opens tonite.
composer Osvaldo Golijov seems a gentle quiet person on the outside but with seething passions running deep. he spoke of the layers of our minds.
librettist David Henry Hwang -- a sexy & funny man -- was attractd to Lorca because: "my art predicts my own life" as did the Spanaird's.
director Peter Sellars -- aging wunderkind with the electric hair -- drew enthusiastic applause when he condemnd the country's current political climate.
set designer Gronk who paintd the entire set himself describd his use of the imagery of seeds.
I don't see the piece for another 2 weeks but can't wait.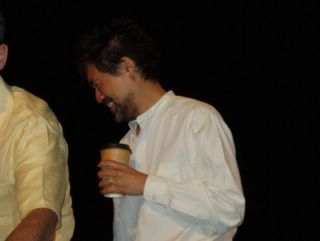 Hwang