Art Lyons the novelist who runs Palm Springs Film Noir Festival likes to screen both classic '40s & '50s examples of the genre as well as later "neo-noir." this year's festival opend with an example of the latter "Seconds." I always thot of this John Frankenheimer film as sci fi but am willing to consider it as noir. it contains Rock Hudson's finest performance & haunting cinematography by James Wong Howe.
films screend over the weekend were a mix of gem ("Guilty Bystander") & junk ("Guns, Girls and Gangsters"). several were the only existing prints of obviously rarely-seen work. but in additional to choice of films what distinguishes this festival is the caliber of raconteurs who speak after the screenings. wheelchair-bound Ray Bradbury has the kind of memory which holds even the minutest detail. it was nearly chilling when he decribd how he willd himself to become Melville in order to finish his stalld "Moby Dick" script.
Mamie Van Doren
rememberd Marie Windsor as a "hot chick" after rooming next to her on location. they remaind friends for years. Paul Picerni recalld when co-star Thomas Gomez sat on the edge of his bed during location shooting & tried unsuccessfully to seduce him. producer Stanley Rubin detaild cuts Howard Hughes forcd on him.
more manana.....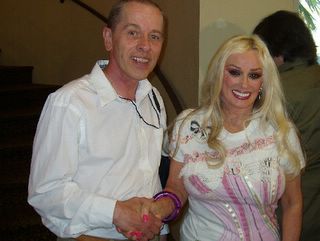 with Mamie