2 mornings ago I was sprawld on my brick floor reading the morning rag. outside the glass door beside me a majestic bird walkd by. by the time I got my camera it was too far away to get a good shot.
it returnd today & I was able to get this (altho I fear by the time it gets reducd you may not be able to see the bird which is to the right of the yellow flower). not visible is the little white tuft that sprouts from its head.
abt a decade ago I got a pamphlet detailing local birds & became quite the watcher. but as often happens with such activities my dedication to it lessend & now I can't locate the book.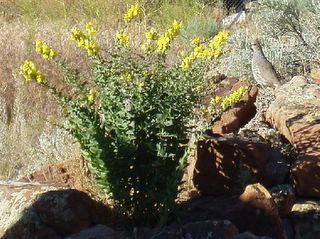 /