if you've never been to South Carolina these are 2 splendid reasons to make the trip.
/

sculptor Anna Hyatt Huntington & her rich husband bought the plantation on which Washington Allston grew up. then 3 more. here they built their winter home Atalaya. eventually this large parcel of land was presentd to the public. the area on the ocean side of Highway 17 became Huntington Beach State Park. the land on the other side became Brookgreen Gardens. Anna's sculpture as well as key pieces of representational work dots the landscape alongside alligators & magnificent plantings. because Archer Huntington was a versifier there are also a multiplicity of tablets with quotations by Whitman & Dickinson even Harry Kemp. our first day there we spent 7 hours & we still returnd the next day for more.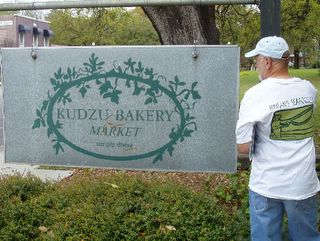 \

I've been going to bakeries all my life & this is one of the best. the pride of Georgetown it's famous for pies & red velvet cake. but Billy is a chocoholic & it was his birthday so he chose a pound cake unlike any I've ever had before.
+