one of the great partnerships in Hollywood history is that of James Bridges & Jack Larson. with Jim directing & Jack producing they did 4 films together. but each had great success on their own as well.
here is the well-known portrait of them by my friend Stathis Orphanos: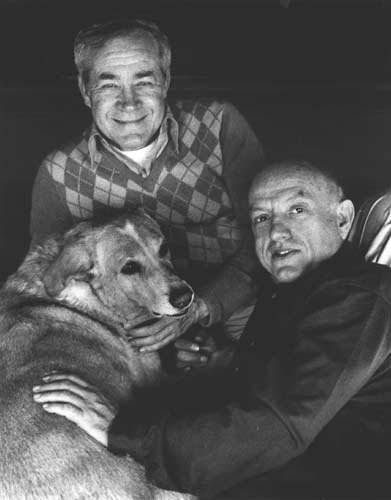 I visitd them in their Frank Lloyd Wright house & it was like stepping into history. Bridges had appeard in films of Warhol & Cassavetes before writing some of the finest tv scripts ever. Larson was a famous tv star who knew Montgomery Clift & James Dean & had written a libretto for a Virgil Thomson opera. they showd me the O'Hara/Brainard collaborations they had. it was magic time.
& why I am remembering this? yesterday TCM showd "Johnny Trouble" (1957). it's a silly film with impossible dialog. but it features Stuart Whitman at his sexiest & Carolyn Jones who seems to have never given a bad performance. & there in the supporting cast were Jim & Jack. they shared the screen only fleetingly but it was lovely to see them together. & it brought back the sweetest memories.